Count's Kustoms The Store
Regular price
Sale price
$225.00
Unit price
per
Sale
Sold out
Proudly American: Count's Kustoms Limited Edition Dickies KROSS Eisenhower Unisex Unlined Shop Jacket in Black – Expertly Crafted, and made in North American | modified in the USA"

 Embrace a true American legacy with the Count's Kustoms Limited Edition Dickies KROSS Eisenhower Unisex Unlined Shop Jacket in Black. This modern masterpiece seamlessly merges timeless military design with contemporary style, paying homage to American workwear heritage. Each jacket features Count's Kustoms' high-quality embroidery, reflecting our commitment to excellence, authenticity, and enduring craftsmanship.
Each jacket is a testament to our dedication to producing only the finest. Indulge in the exclusivity of a limited-edition piece that embodies meticulous attention to detail, ensuring that you wear a truly exceptional work of art.

At Count's Kustoms, we're proud to be Americans, and that pride extends to our craftsmanship. This jacket is more than just an article of clothing – it's a symbol of American ingenuity, produced right here in the USA.

With its generous fit across the shoulders and chest, the unlined Eisenhower Jacket offers a universal fit for all. Crafted from a sturdy cotton/poly twill material, it is both durable and comfortable, ensuring it can withstand the toughest of tasks. Designed for high performance and functionality, this jacket features a durable brass zipper, slash front welt pockets, and a hidden interior pocket. The quilted nylon taffeta lining provides lightweight warmth, making it perfect for layering during colder days.
 The embroidered Dickies unlined Eisenhower Jacket pays homage to its military roots while remaining a stylish and functional piece for everyday wear. Its sleek black color adds a touch of sophistication to any outfit, whether you're at work or enjoying the weekend.
To create an authentic Dickies uniform, pair this jacket with the Original 874 Work Pants, celebrating decades of iconic workwear styling. And for a personal touch, take advantage of our $25 embroidery service and have your name elegantly embroidered on the front. The Count's Kustoms Custom unlined Eisenhower Shop Jacket Black is a versatile and durable piece of workwear that has stood the test of time. Embrace its rich military heritage and experience the practicality and style that have made it a mainstay in many workwear collections. Elevate your wardrobe with this classic piece today.
Share
View full details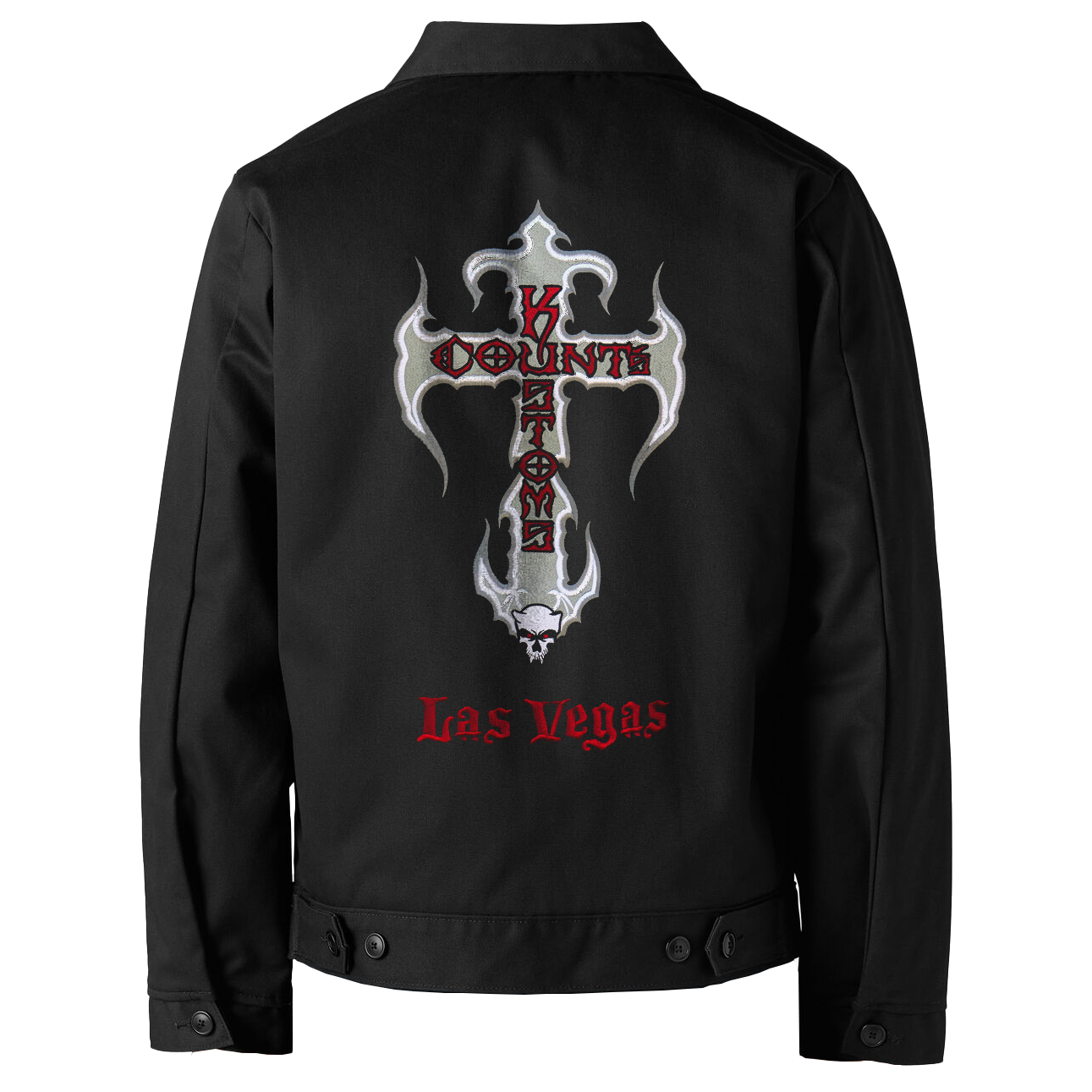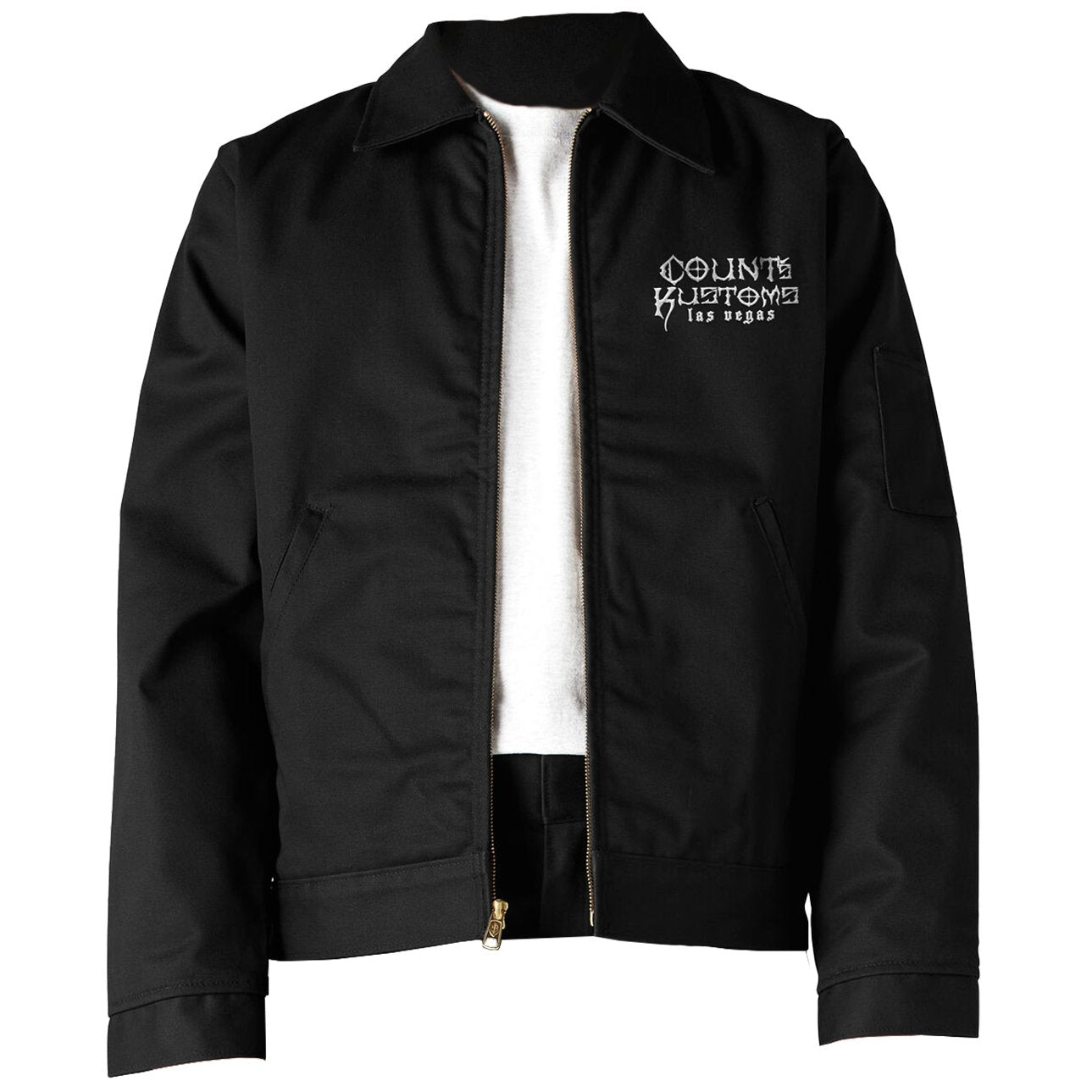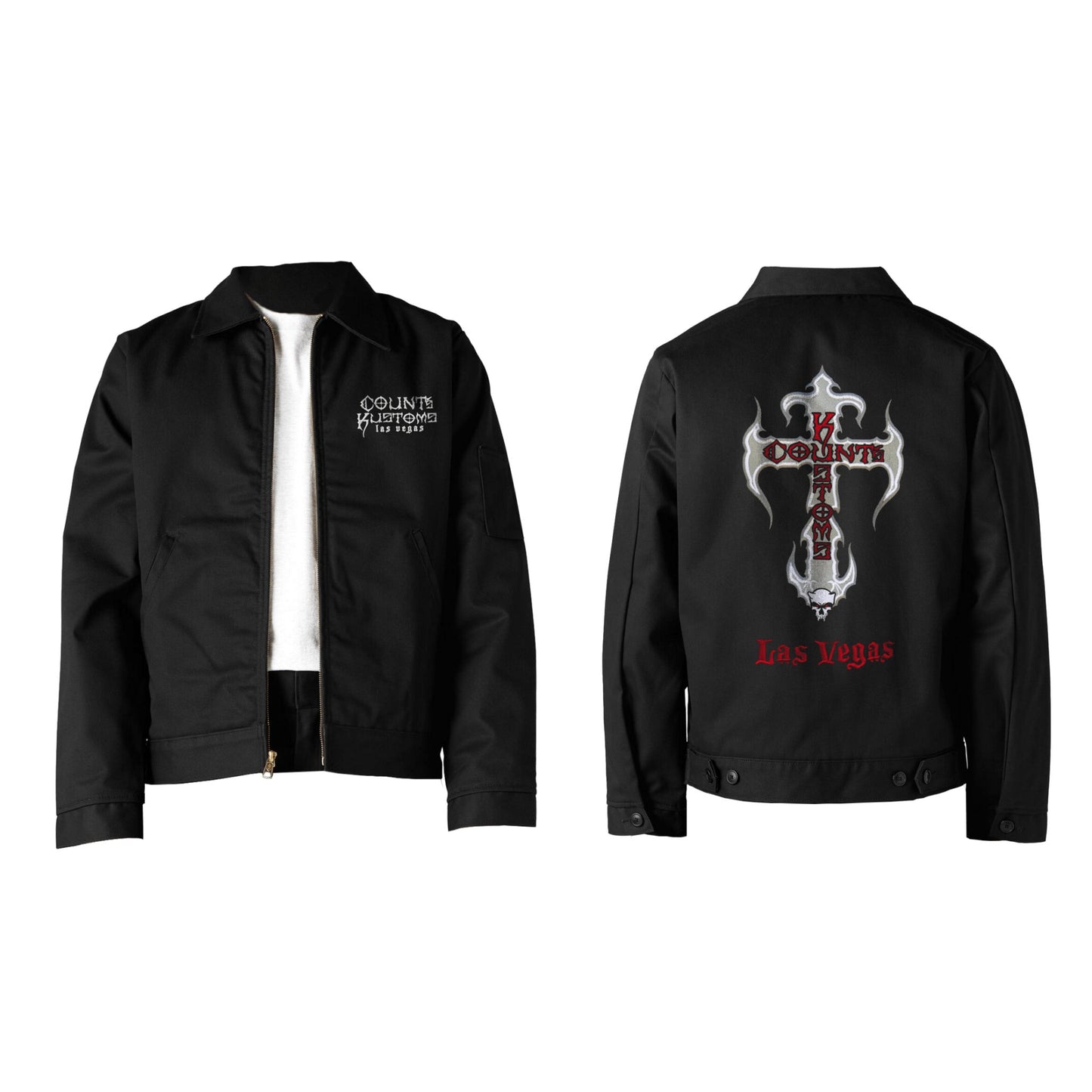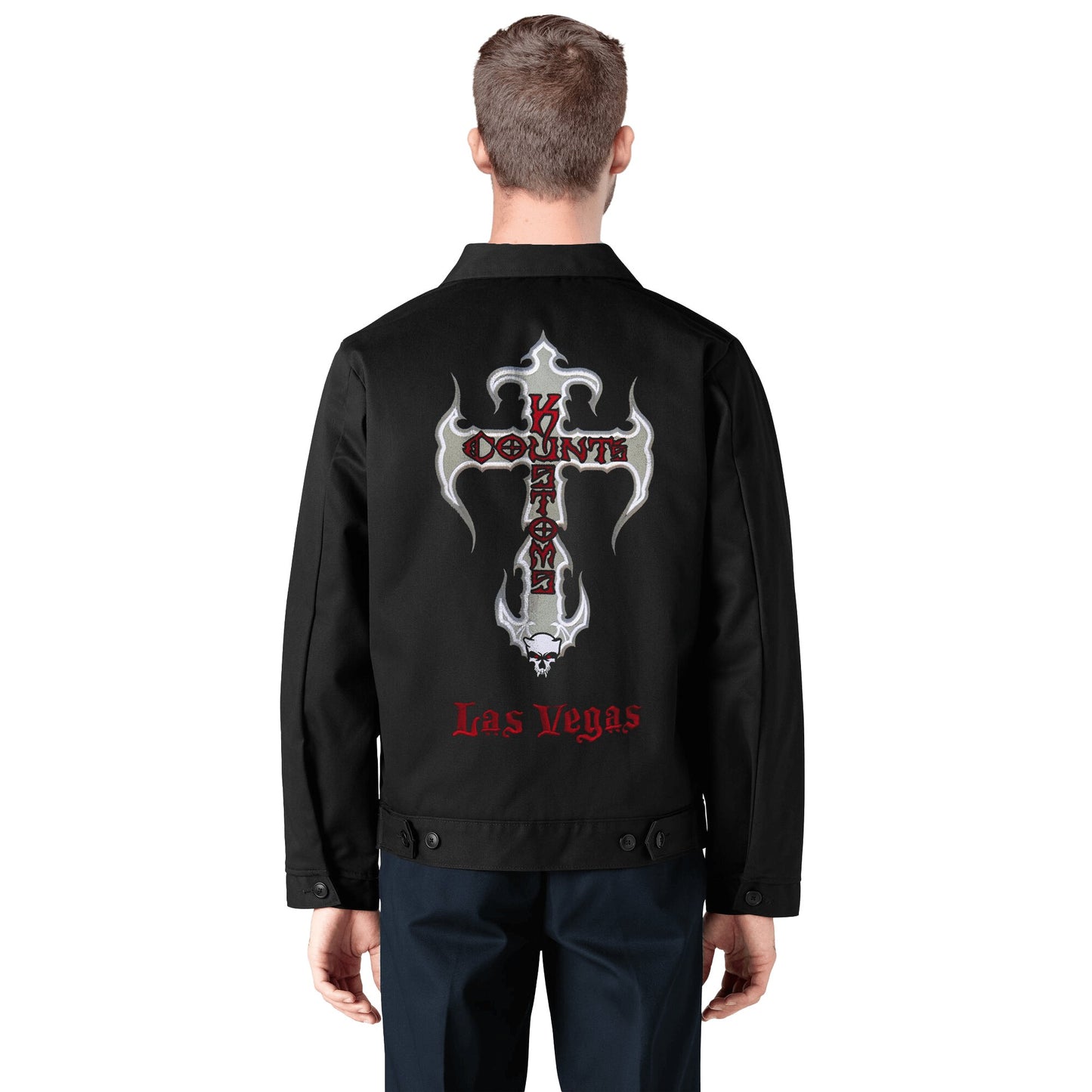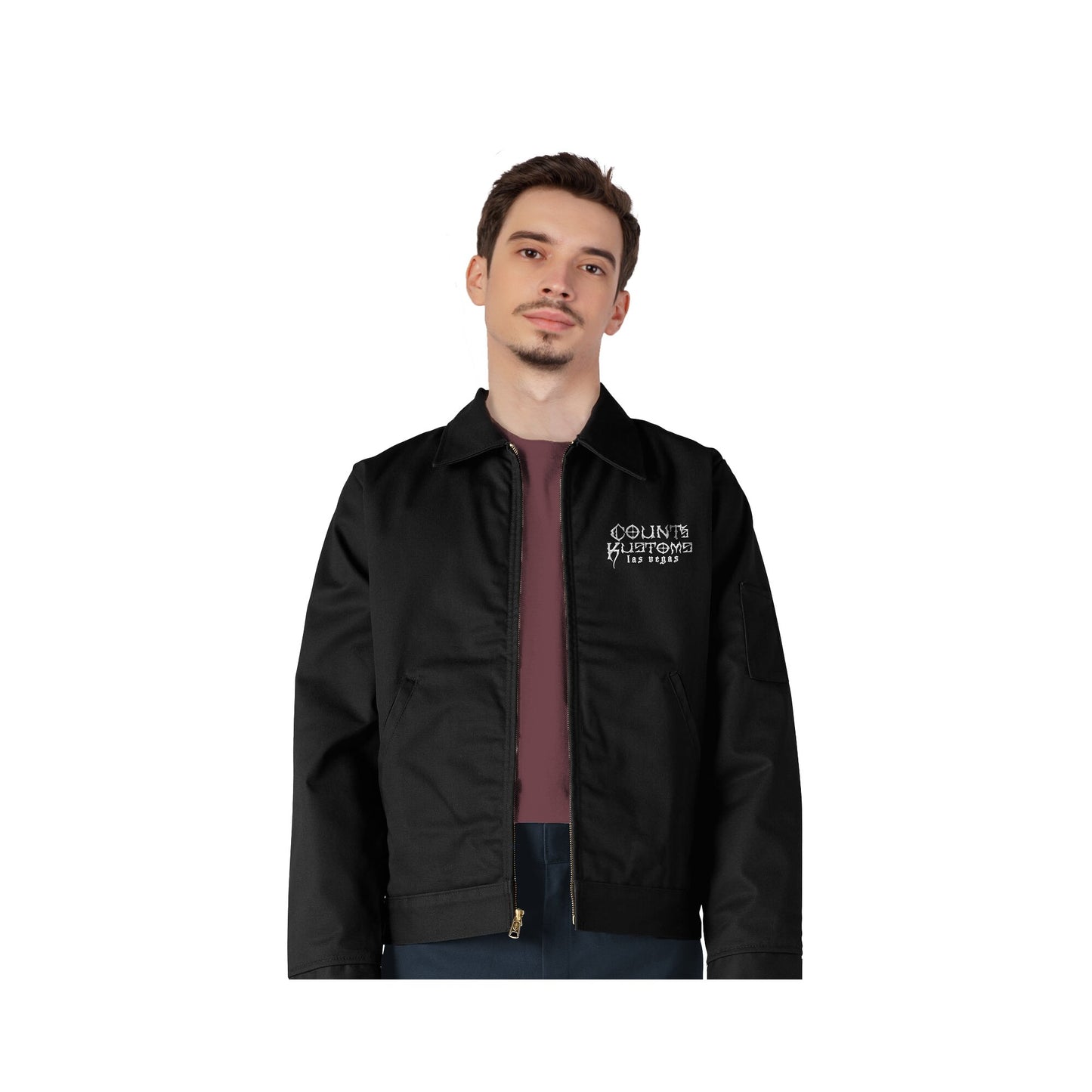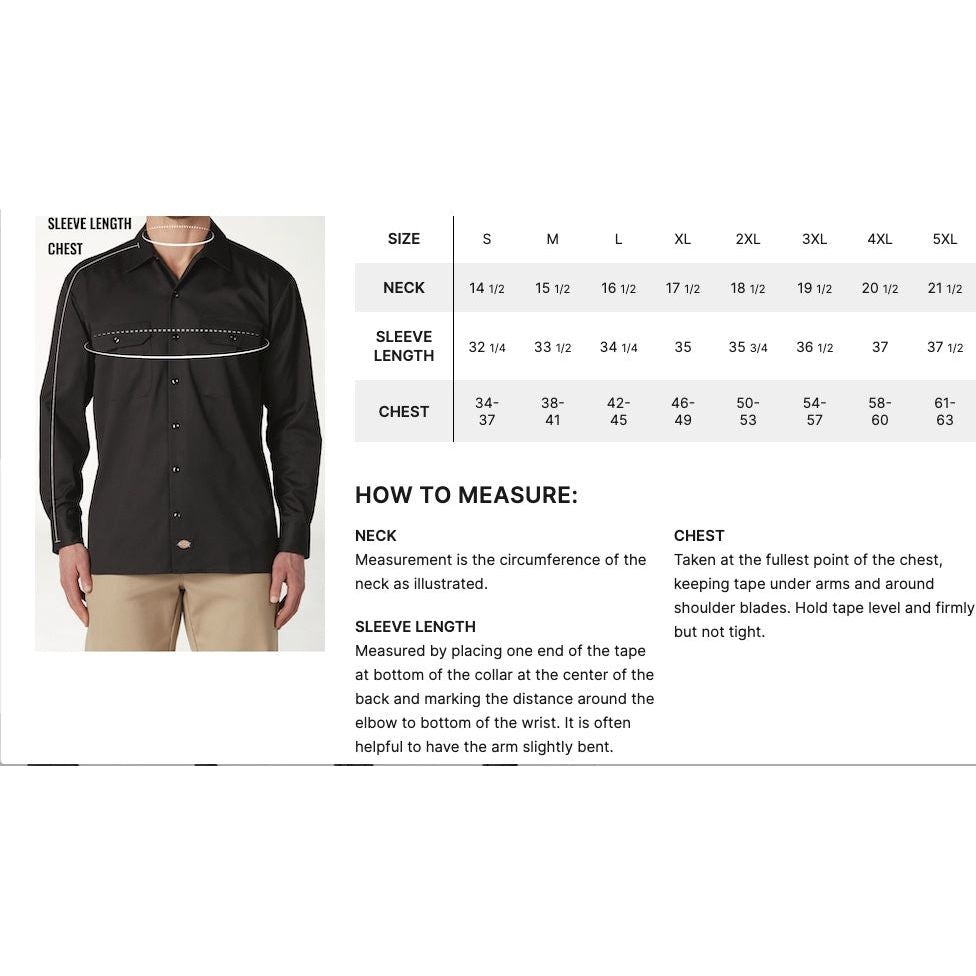 One-year or 60,000-mile warranty. Your mileage may vary.
Bona Fide

Your Torso and Cabeza demand factory-direct OEM parts. Genuine
Count's Kustom gear is only sold here. Accept no substitutes.
Kuality

Q: Will this last a 48-hour binger of decadence and
depravity in Vegas?  A: Yes. We send "Horny"
Mike to personally test every item. Machine washable, gentle cycle only. Never
get in contact with bleach or lite beer, may cause spontaneous combustion.
Golden Ticket

Want to party with the guys in Vegas…..DUH!

Post a picture on our Instagram page wearing your Count's
Kustoms gear holding a sign "VIVA LAS VEGAS" and you will be entered into our
private drawing.